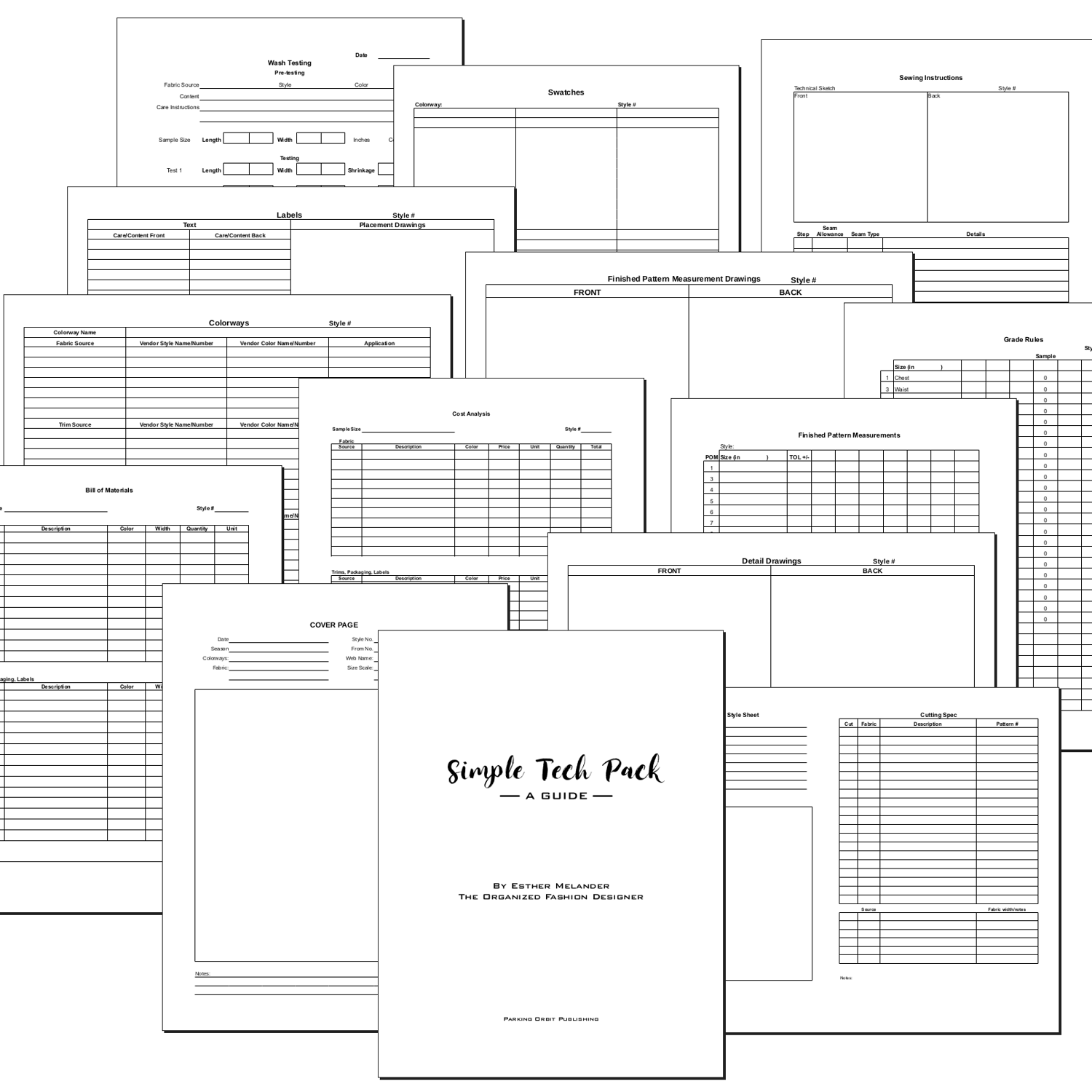 Simple Tech Pack
There are many versions of tech packs on the internet. I call my version A Simple Tech Pack because I have identified the most essential pieces of information needed. My forms have simple clean lines without much visual clutter. These forms will help you gather all of the needed information to manufacture your product. Included is an instructional guide on how to fill out each form. There are three versions provided – PDF, LibreOffice Calc, and Excel. In the spreadsheet workbook version, you can modify, expand, and otherwise customize these forms.
This tech pack will help you organize and present industry expected information needed to manufacture your product. There is no industry standard version of a tech pack, just the information required. I have used a version of these forms for the last 20 years either in-house or as a package sent overseas to contractors. With the included how-to guide, there is no need to track down extra videos or tutorials. This tech pack is perfect for fashion designers, design entrepreneurs, or anyone developing a sewn product.
Forms included in the Simple Tech Pack:
Cover Sheet
Style Sheet/Cutting Spec
Details
Cost Analysis
Bill of Materials
Colorways
Finished Pattern Measurements
Finished Pattern Measurement Drawings
Grade Rules
Grade Rules Blank
Labels
Sewing Instructions
Fabric Swatches
Trim Swatches
Blank Swatches
Bonus!
Wash Testing Guide and Form
No physical product will be shipped. You will receive 3 digital files in a zipped folder. After downloading the folder, you will need to extract the files – most computers have this option available, look for the word "extract" after double clicking on the folder.
There are no refunds on digital sales. Please contact me if you have any questions or concerns. I will do my best to help you.
In full disclosure, some of these forms are also found in my book
The Organized Fashion Designer
. I did not see the need to create something new when it already existed in the form needed. In addition I have added several forms not included with the book, including a bonus form for wash testing. With your purchase, you will receive these forms as a spreadsheet workbook and a PDF. You can fill out the forms in Excel, OpenOffice/LibreOffice, or by hand. Which ever way you prefer. For complete organization of your studio, you can purchase both products to compliment each other. Body measurement charts for children and a how to guide for grading are available in my other book
The Essential Guide to Children's Clothing Sizes
.